'97 Slow Pitch Softball
Pictured left to right, bottom row first are Karl Stellfplugh, Willie Rocha, Eddie Kerr, Todd Post; 2nd row: Jay Cooper w/crutches, Russell Lawson, Glenn, Terry Burkett, Brian Nelson, Brian Lawson, Scott Morton, Tommy Rome, Chris Horton, and Mike Walker
---
The SRI team from Houston, Texas.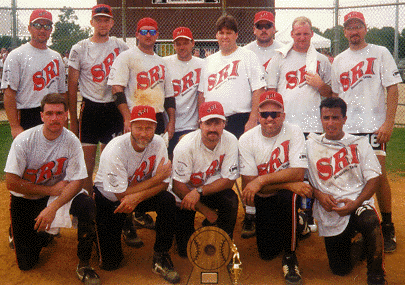 This team took 5th place in State Class D playoffs in July. Cruised through the winners bracket with four good wins until meeting the Streak('96 & '97 state champs) in the semifinals. Ended up 5th out of 100 teams.
In this picture, from left to right front row: Russell Lawson, Eddie Kerr (Coach), Terry Burkett, Tommy Rome, Willie Rocha, 2nd Row: Karl Stellfplugh, Mike Walker, Todd Post, Jay Cooper, Scott Morton, Brian Nelson, Chris Horton, Brian Lawson.

---
Jump back to softball page
This page was last modified on April 28, 1998.